Introducing! Second Chance Interview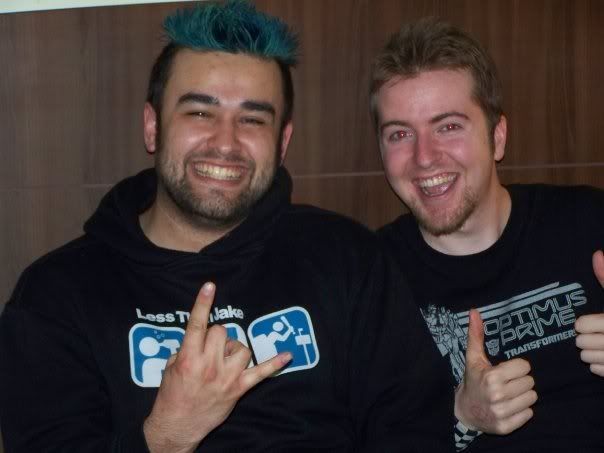 Meet Second Chance, a band of pop-punk variety started by Steve from Make It Better Later and Kris from Hypo Psycho.
It's pretty amazing what these guys have done in such a short time. In just three months the band already have six fantastic songs under their belts, as well as a support slot with Army of Freshman. We also did some filming with them in May and they're top blokes.
We had a chat to find out more.

OK, lets break the ice, tell us something interesting about each other.
Kris: Steve recently bought a PRS guitar, I think he loves it more than his family!
Steve: Kris is a major video game geek, especially war games and shoot 'em ups. Violent lad.
Describe the Second Chance sound to us.
Steve: Unashamedly catchy, fun and heartfelt punk pop. Fun for all the family.
Kris: Punk pop awesomeness! A mix of Allister, Blink 182, Greenday, Less Than Jake and Reel Big Fish.
How did the band get together?
Steve: Kris and I met whilst touring in other bands. We bonded over a mutual love of South Park and pop-punk.
Kris: We went to see a Cartel gig at the Astoria and in the pub afterwards started talking seriously about an idea that we had passed around for a while.
Steve: We decided to form this band and take over the world. It will be ours, oh yes, it will be ours.
Who came up with the name Second Chance and why?
Steve: Kris came up with it. We liked it 'cause it's a positive and uplifting name, second chances are very nice things.
Kris: It seemed to fit as we are both in/were in well known bands. It was a chance for us to have a band that was ours and no one else's, thus Second Chance!
Steve: It also rolls of the tongue quite nicely. We wanted to create a positive and upbeat band so wanted the name to reflect that.
Have you all had prior experiences as musicians?
Kris: I play drums for Hypo Psyco and played for Robolint before that, I also studied music performance at Darlington College of Arts.
Steve: Yes, lots. I was in several different bands back at university, everything from hip-hop to metal to ska. I spent most of my time in pop-rock/ska band Make It Better Later though which was loads of fun and ultimately led me to meeting Kris and starting Second Chance.
Have any of you studied music or had any musical training?
Steve: I have a degree in Electronic Engineering with Media Technology which involves modules in recording studio techniques and acoustics and an International Baccalaureate in Higher Music. I had lots of piano and drum lessons growing up. Self-taught guitar, which could either be very clever or very stupid.
Kris: I studied Music Performance and Digital Art at university.
You had your first gig on the 8th June supporting AoF, how did it go?
Steve: It went pretty well actually, I don't think the crowd noticed the mistakes we made, which is always a bonus. It was just really fun, and we were stoked to finally get a chance to play the songs live and see how people reacted to them.
Kris: For a first gig, it was amazing! Big crowd, great support and a lot of friends, not much more you can ask for!
Steve: It was also great fun with the other bands, all nice guys.
Did you get a good response from the fans?
Steve: We seemed to, yeah. There were a few people dancing and jigging away, also there were a handful of people singing along to the songs. You don't expect that at your first ever gig!
Interesting choice of cover songs… [The band covered Beautiful Girls by Sean Kingston]
Kris: Steve really liked the song and it was in his range so we decided to do it, we only rehearsed it once in practice! I have a few more interesting drum parts for it after playing it live!
Steve: I actually think it's a decent song, I enjoyed punking it up a bit!
You did some filming with us recently. How did you find it?
Steve: Always a party whenever Flecking Records are involved! I am a little nervous to watch the finished interview… who knows what I may have said?!
Kris: I had a good time, was a fun evening even after playing with the other band. I haven't seen the interview footage yet so I'm looking forward too it. I know that Steve was hammered though, so I'm looking forward to taking the mick out of him for it!
What do you have planned for the band next?
Steve: We're recording an EP in the coming weeks, playing a scattering of shows in London all over the summer and planning a big UK tour in October. We're also currently trying out some guitarists and a bassist to sort out the final line up from here on out.
Kris: We have a guitar player called Ben that we are trying out, hopefully he will be good enough as we definitely need 2 guitars in the band!
Where can we see/hear you next?
Steve: We're playing at the Purple Turtle on the 2nd July with some great bands, come down and have a drink with us!
Which bands would you like to support?
Kris: Blink 182 and Rocket Summer.
Steve: Green Day. I would die of happiness. They were the first band I ever went to see in concert and are the reason I wanted to try and make it in a band in the first place.
Where do you see the band in 10 years?
Kris: On another sell out world tour, sipping corona on a beach before a show!
Steve: I suspect we'll still be playing to anyone and everyone who will listen too us. I don't care if it's to 5 or 50,000 people as long as we're still having fun. We'd like to take the band to as big an audience as possible, but that's not why we started it, we love playing music. If we can play music and pay our bills as a result, we'll be stoked!