Steve O'Gallagher – True Ingredients Interview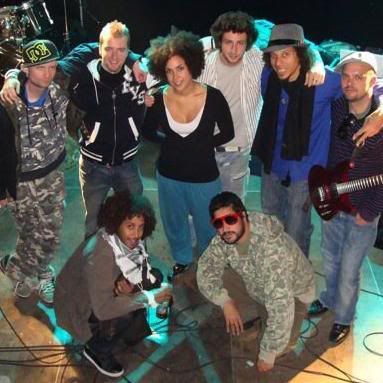 I had a chat with our buddy Steve O'Gallagher about his band True Ingredients.

Steve from Second Chance! You're in a new band! Tell us all about it.
My new band is actually a band I've been in for about 5 years now but it's only in the past year that it's really become really serious. It's a hip hop band that covers a bunch of musical styles through funk, soul, drum and bass, reggae, pop, as well as some rock moments.

Who else is in the band?
It's an 8-piece band for the most part, and sometimes there can be a couple of extra guest MCs joining too. On some gigs we've even had a brass section and extra percussionists and all kinds of madness. The main line up though consists of MCs Mr. Milk, Natty, BluRum13, and MC/singer Aina, and also guitarist Josh, bassist Millzy, DJ/keyboardist Fenna, and myself on drums.
Tell us something interesting about the others.
Aina has the most jaw-dropping natural voice. She honestly sounds as perfect live as she does on record.
Mr. Milk is a married man from Sudan who just might be the most chilled dude I've ever met off stage. Mad as a hatter on stage though. Natty is an ambassador for the Prince's Trust and owner of Defcon Records.
BluRum13 is a well known MC worldwide and the list of big-named artists he's performed with is ridiculous.
Millzy's favourite word begins with a 'c'. Yes, that one. It's not his fault, he doesn't know any better.
Josh used to work for Sony records and hates seemingly all forms of rock music so you can imagine the fun I have with him over the stereo on tour. Fenna is one of those annoying people who can literally wear the most ridiculous things in the world and make it look cool.

You all look so cool it hurts, do you have to be cool to be in the band?
[laughs]! I think the fact that I'm in the band proves that you don't have to be cool at all to be in it. The rest of the band though are, as you put, so cool it hurts. The great thing is that they don't seem to know how cool they are. There's no pretentiousness or ego anywhere in this band, they're honestly some of the friendliest people I know.
Where do you guys take your influence from?
The influences come from far and wide. I bring some rock, Josh brings some jazz, Millzy brings some grunge, the MCs bring some funk, rap, reggae, madness, and Fenna brings sounds from all around the world. We do not take influence from the auto-tuned rubbish in the charts that's being mislabelled as 'hip hop' though. That's for sure.

How would you describe your sound?
Our sound is funky, punchy, soulful, lively, and it'll get you moving. Our aim at any given show is to make sure there isn't a stationary person in the building so we try to make sure each song has an irresistible groove to it that you can't help but move to. The lyrics come from very real and authentic places. I'm starting to sound like a hippy, huh? It's true though. This is a band of people who are tired of the 'bling' and 'glamour' pop culture and have songs that hopefully inspire people to be honest representations of themselves and enjoy life a bit more. Life should be fun, not pretentious.

Are there any other bands out there similar to you?
We've been told we bear some similarity to the Black Eyed Peas or the Fugees, which makes sense as far as we have MCs and a female singer with some punchy beats and catchy choruses. I'd say the Fugees is the closest to the mark. In reality though, I've yet to see another live band with this many MCs who play our variety of hip hop. Each song is a world a way from the next. In any given set there's jazz, drum and bass, reggae, funk, rock, and samba. We don't have any formula for a song.

What is the band up to at the moment?
At the moment we're playing some shows around London to promote our new single before we spend the summer playing tours and festivals around Europe. These are very exciting times!

When is your single released, and how can we get hold of it?
Our single is out on the 26th of April 2010 so real real soon! You can get it from all the usual online places: iTunes, Amazon, Napster, Rhapsody, emusic, and also from our website www.trueingredients.com.
What's happening with Second Chance?
Second Chance has taken a back seat since True Ingredients played last year's Glastonbury Festival and things started taking off. I've been working towards being a full-time musician for years and years and this is an opportunity I'd be a fool to miss. I love the music this band makes and the people in it so it's an absolute blast. The other guys who were in Second Chance are busy doing other things too; Kris is qualifying to be a Scuba Diving Instructor and Ben is in the punk band A Man Down. Basically, Second Chance is now just a solo side-project of mine which I will keep doing whenever I have time. I'll always love rock and write rock songs so whenever I get a chance to do so I'll record some more songs and put them online for anyone who's interested. Second Chance is not dead, it's just sleeping.

When is your next gig?
Our next gig is on Saturday the 24th of April at the White Lion in Streatham, London. It's acting as a single pre-launch party as the single's out 2 days after that.
Who was your favourite band of the noughties?
I'm going to have to go with Green Day. On the 8th of December 2000 they became the first gig I ever went to see and it was at that moment that I set my sights on trying to be a musician as a career. They were the first inspirations that led to all the amazing times I've had gigging and touring in the past 10 years.
Who is gonna be big this decade?
Twin Atlantic. They're an amazing band from Scotland and in my opinion they're the best rock band in the UK at the moment. They are simply incredible.

Describe the band in three words.
Lively. fresh. funky.
Where do you see the band in ten years?
Wow, ten years is a massive chunk of time. It's really anyone's guess. Who knows, if it all goes as well as we hope then 10 years from now I'd like to see us headlining Glastonbury and touring the world playing to festival-sized crowds. Watch this space I guess…