Enter Shikari Interview – Vans Warped Tour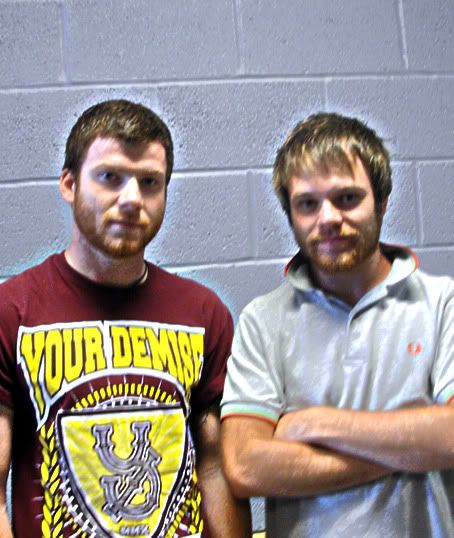 Having already played shows with the likes of Pendulum, Prodigy, InnerPartySystem, Linkin' Park and even Jay-Z, as well as playing hundreds of sold-out headline shows in and around Europe, it is only natural that Enter Shikari approach the other side of the pond in their quest for music domination.
We stopped by for a chat with Rou and Rory from the band, to see how they were finding their first Vans Warped Tour experience!

Introduce yourselves.
Rou: Well, hello. I'm Rou I sing and press buttons.
Rory: I am Rory, I play guitar.
How has Warped Tour been for you guys?
Rou: Really well! It's been really good fun. It's been pretty tiring but rewarding.
Rory: It's a lot better than I expected it to be. I heard some bad stories about it. How it was all just dusty car parks, just likes slogs and stuff.
Slog?
Rory: Yeah, just like one big pile of slog. [laughs] That made no sense, sorry.
Rou: It's been really hot, but once you just get over the fact that it's hot, it's fine.
Do you get to check out a lot of the bands playing? Who have been some of your favourite and worst?
Rou: We're usually really busy with merch and that. We try to watch The Dillinger Escape Plan, but I mean there aren't a huge amount of bands who we think are particularly great.
Rory: The bands are all slog [laughs].
Rou: We can't name any names.
Rory: There's too many. Our two favourite ones are The Reverend Peytons Big Damn Band and The Dillinger Escape Plan, they're definitely the two best ones.
If you could host your own Warped Tour, who would headline and who would support?
Rory: I think I'd probably choose Enter Shikari to headline [laughs]. And maybe Prodigy to support.
Rou: Rage Against The Machine aswell.
Rory: Yeah, Rage Against The Machine opening the night, [laughs]
You're on the road a hell of a lot, how do you deal with being so far from home and away from loved ones?
Rory: Just gotta man up. Slog it out I guess. [laughs]
Rou: There's not really much you can do I guess, our internet on our bus is really shit, so Skype and all that doesn't really work. Just end up with a bit of a shocking phone bill.
Are there times when you get fed up and just want to go home?
Rou: Yeah, it happens every now and then.
Rory: It's usually just when you're really, really tired and every little things becomes… slog. [loud laughter]
Tell us something interesting about yourselves or your band mates.
Rory: An interesting fact about Rou, his first instrument was the trumpet!
Rou: Rory used to be a magician [laughs]. Doing table magic in restaurants.
Wow! If only we had a pack of cards. Do you have any crazy fan stories you can share with us?
Rory: It kind of happens quite a lot, all the time. They're not really very interesting, but you just tend to meet a lot of weird people.
Rou: There was a guy that asked me to sign his arse. And I was like "You know what, OK, yeah, it's cool, whatever" but then he bent right over. [laughs]
Did you end up signing it?
Rou: Yeah! I just wanted to get it over and done with!
Who is the most embarrassing band or artist on your iPod?
Rory: I have somehow got The Spice Girls Greatest Hits. [laughs] I dunno how it got there.
Rou: I cant think… I should have brought it with me.
Rory: [to Rou] To be fair your stuff is pretty embarrassing.
Rou: Yeah.
Rou we feel like you're trying to get out of this one?
Rou: [laughing] I'm trying to think. Maybe something really old? 90's garage like DJ Luck and MC Neat.
Let's play word association.
Music.
Rory: Fun!  – Where did that come from? [laughs]
That's how the game works! The first thing that pops into your head. Rou your turn.
Rou: Man?
Hmm, maybe you'll get the hang of it.
Band mates.
[Rory and Rou answer at the same time]
Rory: Rou
Rou: Twats. [laughs]
Amsterdam.
Rou: Shemale.
Lady Gaga.
Rou: Fit? [Rou doesn't look too pleased with the answer he just came up with]
Rory: Erm, sunglasses.
Touring.
Rory: Slog! [laughs]
Rou: Warped Tour.
Cheese.
Rory: Cravendale. Cravendale is cheese right?
I believe it's milk actually.
Rory: Oh yeah! It's a milk!
But Cheese is made from milk?
Rory: OK… Cheese… Cows.
That was our next word! Cow.
Rory: Oh!
Rou: Udders.
Rory: Cow, cheese.
Alcohol.
Rou: Yes.
Rory: Please. [laughs]
Fans.
Rory: Weird.
Oh thanks!
Rou: [laughing] No, not you!
England.
Rou: Sigh.
Rory: Beer.
How do you find fans in America/Canada compare to UK fans?
Rou: It's pretty similar really.
Rory: Yeah.
Rory: I mean if we played in a venue over here of 5000 capacity of our own fans it would be pretty much the same. When we play festivals and stuff, not everyone knows us so it's different like that.
Rou: Wherever we go people generally react the same. I don't think geographical position changes the way people act around us or to our music.
Rory: Yeah!
So, what is next for Enter Shikari?
Rou: We are back to the UK for some festivals. We've got a Prodigy show at the Milton Keynes Bowl.
Rory: Yeah, cant wait!
Rou: Then we're back over here in October for a headline tour.
Rory: Then a new album I guess, start working.
Sex drugs or rock 'n' roll?
Rory: Rock 'n' roll.
Rou: Sex.
Interview by Tanu Ravi.