The Summer Set Interview – Vans Warped Tour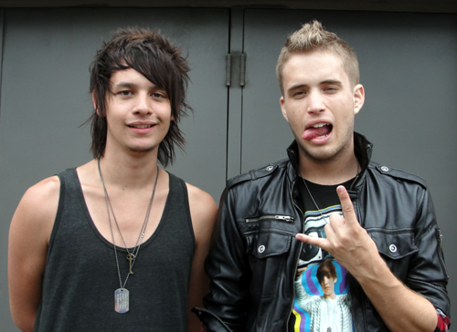 Hailing from Scottsdale Arizona, The Summer Set are a new, fresh-faced pop-punk band with heaps of energy and great catchy songs. The band are already on the road to success, having been a part of The Bamboozle Roadshow, The Vans Warped Tour and The AP Tour all this past year.
We caught up with two of the members, Brian and Stephen, at the Vans Warped Tour to see how the festival vibe was treating them.

Introduce yourselves.
Brian: I'm Brian and I sing.
Stephen: I'm Stephen and I play bass.
Brian: And we are from The Summer Set.
Awesome! So how has Warped been for you guys so far?
Brian: Warped Tour is dirty and I love it!
Stephen: Same!
For people who haven't heard of you guys, describe your music in one sentence.
Brian: Good old fashioned American pop rock n roll
Stephen: Yeah! That's it!
Do you get to watch many of the bands on this tour? Who are your favourites?
Brian: Some days, yes. Some days, we're just too busy but we have watched a few. We really like watching The All-American Rejects, they're good.
Stephen: They're really fun to watch.
Brian: Andrew WK is really cool. Mike Posner being one dude on stage is pretty good with a crowd too!
Stephen: I watched Bring Me The Horizon the other day, and that was just insane! They made a circle pit around the sound booth!
Brian: That's gnarly!
Stephen: It was terrifying!
Brian: I know other people in our band have seen Enter Shikari.
Are there any bands you're not too keen on?
Brian: Everybody who is on this tour has worked to be on this tour and I like that this tour is a diverse array of bands.
Stephen: Yeah, everyone's here for a reason.
If you could host your own Warped Tour who would headline and who would support?
Stephen: Oh man, I would bring it back to like Drive-Thru days. Definitely like The Starting Line, Brand New.
Brian: The Gaslight Anthem would be on it.
Stephen: I'd just go back in time! And of course we'd be there! [laughs]
Brian: Journey!
Stephen: And Blink-182! That'd be awesome!
Brian: Yeah, we really wanna mix it up! Beyonce!
Stephen: Kanye!
Brian: We can dream. [laughs]
You're on the road a lot of the time, how do you deal with being away from home?
Brian: I don't really have any friends and family, so I'm fine. [laughs]
Stephen: Erm, phonecalls, text messages.
Brian: They understand, I mean we've been doing this for like two and a half years now, so were really used to it. I find the more time I spend away from family, the time that I do spend with them becomes greater.
Stephen: Yeah, I totally agree. And they understand and are really supportive and they know we'll come back home.
Tell us an interesting fact about you or your band mates.
Stephen: I'm not interesting at all.
Brian: Erm, Stephen likes country music.
Stephen: Oh yeah! I do! [laughs]
Brian: So do I actually. Almost all of us, except for Jess, are either Vegan or vegetarian. Jess is an animal killer.
Stephen: Jess kills them herself.
Brian: Yeah, she actually physically kills them.
Stephen: She has a cow farm back home in Arizona.
Brian: She does eat animals but she doesn't have a cow farm, she doesn't really kill them.
Do you have any crazy fan experiences?
Brian: I have never had a really outrageous, stand-out fan experience.
Stephen: I mean our fans are really dedicated, and once in a while you'll get the really awkward girl who will like cry and we're like "Why are you crying?". It doesn't happen that much, but when it does its like "Erm… I guess I'm sorry for making you cry?" [laughs]
Who is the most embarrassing band or artist on your iPod?
Brian: I'm not really embarrassed about anything. I have a lot of music from like the Disney Channel on mine.
Stephen: Yeah same, I'm not really embarrassed either.
Brian: Yeah I don't have guilty pleasures, I just have pleasures. I mean, c'mon, I'm wearing a Justin Bieber T-shirt! [laughs]
That is pretty embarrassing.
Stephen: And I'm in the band with him! Tell me about it, it sucks. [laughs]
Let's play word association!
Music.
Brian: Video.
Stephen: Sex.
Band mates.
Brian: Weird.
Stephen: Sex.
Amsterdam.
Brian: Drugs.
Stephen: Sex! [laughs]
Lady Gaga.
Brian: White.
Stephen: Hair – I'm not even thinking about these! [laughs]
Touring.
Stephen: Fun!
Brian: Awesome!
Cheese.
Brian: Yummy.
Stephen: No good.
Cow.
Brian: Keep them alive!
Stephen: Friendly!
Brian: Cows are friends, not food. [laughs]
Alcohol.
Brian: Awesome.
Stephen: Yes!
Fans.
Brian and Stephen: Awesome!
England.
Stephen: Awesome!
Brian: Would be more awesome if we were there!
Stephen: Yeah! I've never been but I've heard good things. We have an Englishman on our bus and he makes fun of us all the time.
Brian: Yeah, he's way cooler than us, that's the problem.
Stephen: We try to get back at him, but he always beats us! [laughs]
Brian: He's infinitely wise.
Stephen: And has a lot of cool slang!
Brian: I don't even know how to respond to a lot of the things he says.
Gary Coleman.
Stephen: Short.
Brian: Dead.
What is next for The Summer Set?
Brian: World Domination!
Stephen: We're touring in the fall.
Brian: Yeah, in Canada and the USA, and then start working on some new music!
Sex drugs or rock 'n' roll?
Brian and Stephen: Sex!
Interview by Tanu Ravi.