Gorillaz "The Fall" to be Released on Vinyl for Record Store Day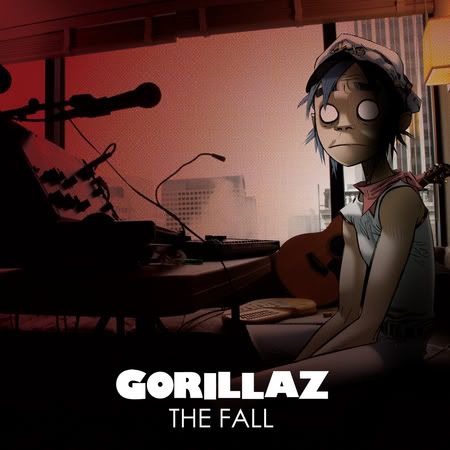 Gorillaz fan club download "The Fall" is now set to be released on 180gm vinyl for Record Store Day on 16th April as well as on CD and digital download on 18th April 2011.

The album was created throughout the Gorillaz 19 date North American Tour last autumn. Recorded on a daily basis in various hotels and venues, The Fall, is a sonic diary of that journey.
A download of The Fall was originally gifted to members of the Gorillaz fan club on December 25, 2010. The 15-track album produced by Gorillaz and Stephen Sedgwick.
In the words of 2d, "Uhmmm….The first Gorillaz album, our debut record, was more Russel's… like… lots of hip-hop, funk and Cuban dub stars. Demon Days right, came more from Noodle and her dark doomy demos that she made, and all of her contemplations on the world 'in a place of night'."
"Plastic Beach came out mainly from Murdoc's head, all of his mucky exploits and global collaborations and legendary mash-ups recorded on the Plastic Beach island in the middle of the ocean. Very rum and piratey…"
"And this one The Fall, is mostly just me…something more gentle and just…well…it's just me and an iPad really mucking about…trying out some stuff."
"Just looking at America and then tapping on the screen… I'm not really concentrating too hard on it…. So, right, each album got all of us on it somewhere, but each time it's… more of one of us than the others….Well, that's how I see it anyway."
Track-listing is as follows:
Full track listing for The Fall:
1. Phoner To Arizona
2. Revolving Doors
3. HillBilly Man
4. Detroit
5. Shy-town
6. Little Pink Plastic Bags
7. The Joplin Spider
8. The Parish of Space Dust
9. The Snake In Dallas
10. Amarillo
11. The Speak It Mountains
12. Aspen Forest
13. Bobby In Phoenix – featuring Bobby Womack
14. California And The Slipping Of The Sun
15. Seattle Yodel