Rob Rolfe – Enter Shikari Interview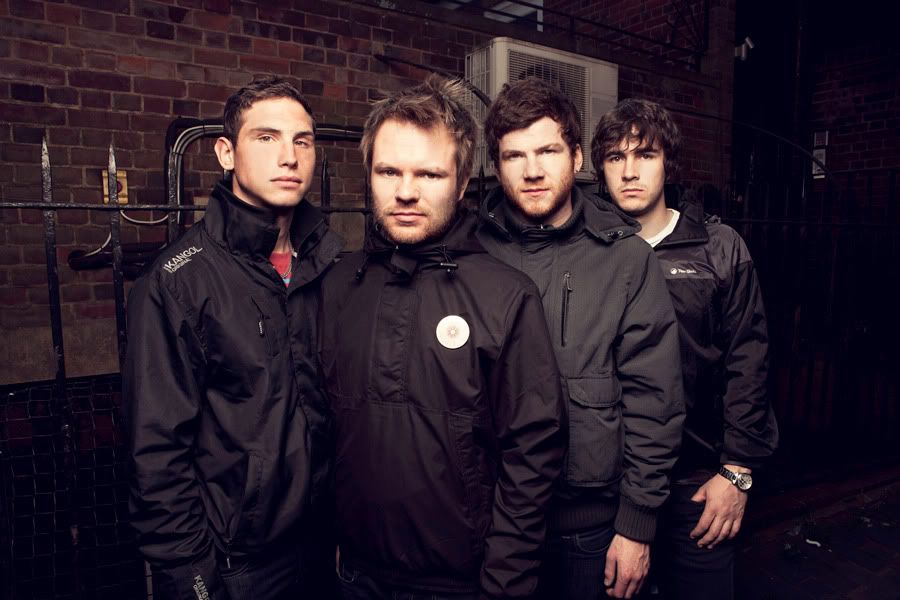 In the middle of playing the Vans Warped Tour, we had a chat with Enter Shikari drummer Rob Rolfe.

Your DVD, 'Live From Planet Earth', is out on the 11th July. Tell us about it.
It's basically a collection of live footage from around the world and from our early beginnings to the most recent shows.
Sell it to us with your best salesman-esque pitch.
If you want to know what Enter Shikari are all about, you'll need this. It's a collection of our explosive live shows from the biggest full production shows to the grottiest, sweatiest small club shows. We've always put our heart and souls into our live performances and this fantastic DVD proves it.
2010 was a busy year for you guys! You played the Vans Warped tour, you gigged with 30 Seconds to Mars – what was your highlight of your year?
We went to Russia for the first time last year, that was an amazing experience. I don't know why we've never been over there before, the audience was crazy. We loved it so much we had to make sure we added more dates to the beginning of our up-coming European tour. Reading and Leeds are always amazing experiences for us and last year was no exception, the tents just exploded.
And you're playing festivals this year too.
Yep, we're on the Warped Tour right now. It's going really well, the shows have run smoothly and the audiences are very excitable. We've also got Reading and Leeds again this year, main stage the time, should be killer. Reading was the festival we all used to go to as punters so it kind of feels like a hometown show.
And then you're doing a European tour.
With two fantastic bands; Your Demise and letlive. It's going to be awesome watching them every night, can't think of anyone better to tour with to get us pumped up for our own set. We're going to Poland and the Ukraine for the first time too, should be fun.
Do you have any favourite cities to play?
London, Newcastle, Glasgow, Hamburg, Amsterdam. To be honest, all of them are always great, there are one or two that aren't quite as intense as the others but I wouldn't want to mention which because we still have great fans in every city we go to and wouldn't want to offend anyone. But thinking about it, it's never the fans that are the problem, I guess we judge how good a city is by how much fun we have going out after the gig.
How do you guys deal with homesickness?
Well keeping busy always helps, whether it's the gigs/press/signing/reading/going out/watching films – keeping you mind occupied keeps you going. But we contact our families, friends and girlfriends every day through phone or internet so we are still in close contact with them all. We've toured so much that the tour bus ends up being your home, I think it's harder for people that spend most of their time at home then go away for a long period whereas we're away all the time anyway. It is a great feeling to get home and relax for a bit but after too long we start getting itchy feet and want to be playing more shows.
What's the first rule of touring?
Don't bitch. It's hard work but everyone's on the same bus and everyone has to get on with it. If you just try and have a good time and stay positive you can have the time of your life but if you are pessimistic about it and complain a lot you can make life very hard for everyone. Also you have to try and stay healthy. It's very easy to get ill on tour so trying to eat well and exercise regularly is imperative.
You guys have a fairly hardcore image, would you say you were pretty badass?
The baddest of asses. Nah, we try not to take ourselves too seriously and just enjoy our lives. We don't pretend to be tough guys but at the same time we're by no means a bunch of pussies.
Ever thrown anything out a hotel window?
I hate the word rock stars, that's the type of person that wears sunglasses in a dark room and throws TVs out of hotel windows. We have fun but we're not dickheads. We give a lot of respect where it's due.
Tell us something (true) that will make you seem really nerdy.
Rory [Clewlow] is a massive Trekkie.
Can we expect a new Enter Shikari album any time soon?
Yes, we're actually just in the process of mixing it. Had an amazing time recording it in Thailand and it's sounding pretty fucking beefy. We don't have an exact date yet but will hopefully be releasing it very early next year.