Chris Guglielmo – Bayside Interview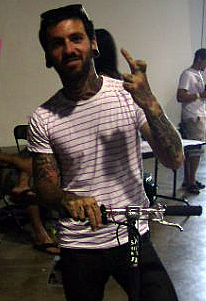 We caught up with Chris Guglielmo from Bayside during the Vans Warped tour 2009, backstage, on a sunny day in Toronto, Canada.

Introduce yourself.
Hey, I'm Chris and I play drums in Bayside!
How's the Warped Tour going so far?
Warped Tour is absolutely fantastic! This is the second year that Bayside have done it in it's entirety and it's something we all really  look forward to! We usually headline when we play shows, so we are going form playing like hour and a half sets to half an hour a day. So it's cool, 'cause you play for half an hour, then you get to hang out, have some lunch, watch some bands… watch some shitty bands that make you feel so much better about yourself.
Ouch! Care to divulge?
I have watch some really shitty bands on this tour. I'm not gonna mention any names.

Oh, go on… it'll be our little secret!
Well, I saw I Set My Friends On Fire today, and to be frank, they were fucking insulting! I have no problems in admitting that band. However, I did just watch our good friends Silverstein play and they were fucking great! I also watch Alexisonfire and I also watch Gallows everyday!
Awesome! Have you ever been to festival as a fan, and not part of the lineup?
Erm… I think the only festival I've been to is the carnival that comes around my area every year! [laughs] Hmm, let me think. You know, I don't think I've ever been to a festival as a spectator. Is that rude?
No, it just means you haven't lived!
[laughs] Apparently so!
If you could host your own festival, who would headline and who would support?
Oh man, erm, The Police would headline and for support, erm… I'll probably think of something good when I leave. Support for The Police would be… oh! Bayside!
Have you got any weird phobias at all?
Well, at the end of 2008 we flew to the UK, and I never really had a problem with flying before, but last year me and Jack were sitting at the back of the plane, and it dropped like 3 or 4 times and since then I've been taking Zanex everytime I fly! And I also don't like spiders. I mean I think they're cool, but I wouldn't really want one on me. I also don't like the dark, like I don't like being home alone when nobody is there.
Who would you say are your major influences?
Personally, people I look up to, do you know the band The Refused? Amazing. The Refused, The Police, old school stuff like Madonna, I mean my parents were really into Madonna!
Wow! Hardcore, to say the least!
Yeah right! I know. I don't listen to a lot of new music, I don't think it's too good. I mean I'm not saying my band is the greatest but there are very few bands nowadays I get really taken back by. Death Cab For Cutie, I think is a great band. I'm not really influenced by man people individually. I mean friends,  family, people that mean a lot to me…
This is slightly beginning to sound like an Oscar speech now, would you like to thank God?
[laughs] Erm… No thank you, God.
OK, one more question, sex, drugs or rock 'n' roll?
Pffft! Rock 'n' roll. 'Cause the other two come along with it!
Interview by Tanu Ravi.