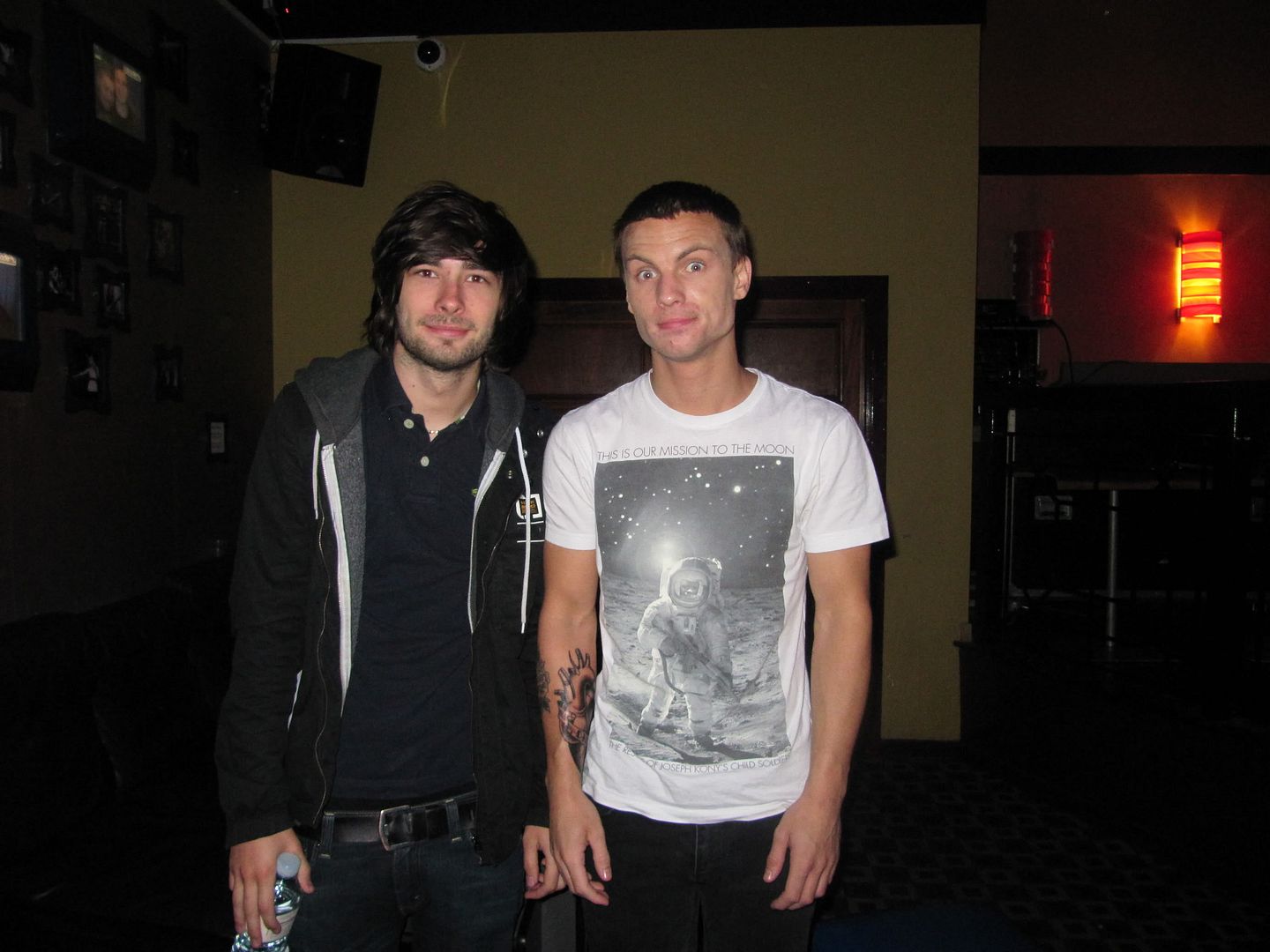 You Me At Six have gone from strength to strength recently and there certainly is nothing that is managing to 'hold the band down'. They have completed an arena support slot with Paramore across the UK, had a number 5 album in the UK charts, played in countries across the world and have just finished their sell out headline UK tour. The band have nothing stopping them on reaching their goal and with their dedicated fanbase they have a very promising future.

We caught up with Matt and Dan (bass and drums) from the band in a darkened room before their headline show in Glasgow.
Sorry I can't even see the questions, it's a bit dark in here.
Matt: It's bloody well dark isn't it!
So guys, who's idea was it behind the tour backdrop? With the runway and stuff on stage…
Dan: We just spoke for a while we knew we wanted to top the last tour so we figured why not get ramps.
Matt: Next time there's gonna be flames!
Dan: We seen it on a few other bands DVDS and we thought that'd be cool let's try that.
What made you decide to have two 'slower' songs in your set? (With Always Attract and Fireworks)
Dan: I think they are big songs. You've only got to look on Youtube to see how many plays they get compared to some of the other songs from the album, so we just think the kids like them.
Matt: They would've been upset if we didn't play Always Attract and obviously if we didn't play Fireworks, so we were kinda like, just do it.
Yeah, that way you're pleasing everyone!
Matt: Yeah it's a nice chill out as well, 'cause you get like ten minutes to just chill. I'm gonna sit down tonight as well.
Dan: Do it!
Do you find people are taking your music more seriously now your album has charted?
Matt: Definitely! I'd say before we weren't a kind of scene band, but we were the kind of band that girls would see and be like [Matt puts on his best girly voice] 'Oh god they're so fit!'
[Laughter]
Matt: But now like we've got in the charts you get the kind of fans that are fans of real music. They'll be listening to Radio One and be like 'I really like this band I'll go check them out', like some thirty year old dude or something like that. Being in the chart definitely changes you a lot.
Dan: I think you get respected a lot more by the likes of Radio One and we were on T4 and stuff like that, so I mean within the industry you get respected a lot more.
Seeing as your friends with 'The Blackout' have you any plans to tour with them in the future?
Matt: No we hate them…
[Laughter]
Matt: Nah I'm joking. We haven't got any plans, we want to do a cool UK tour with all the UK bands that are our friends.
Dan: It's something we always talk about.
Matt: Like The Blackout, maybe even Horizon if they wanna do it, we haven't really spoken about it properly. It would be cool wouldn't it?
Definitely! Like the Warped tour in America, we don't really have anything similar to that over here.
Dan: Yeah, it's [the UK] not big enough though is it?
True.
Matt: Well we've got Reading and Leeds...

Do any of you have nicknames within the band?
Dan: Yeah we call Chris Chewbear 'cause he looks like Chewbacca from Star Wars.
Matt: He's got really long hair, he doesn't wash and hessmells. He's hairy. That's about it really isn't it… [Laughter] We call Max a moron, but it's not really a nickname.
[Laughter]
Who was your favourite band of the noughties?
Dan: Band of the noughties…
Matt: Westlife. [Laughter] No I'm only joking.
Dan: JLS. [Laughter]
Matt: Yeah definitely, JLS, it's done. I can't think of any.
Dan: Bands that have just come out in the noughties…
Matt: Not just come out, they don't have to have just come out they could be 9 years old…
Dan: Yeah.
Matt: I'd say Take That but they were nineties weren't they?
Dan: Yeah, so were Blink 182.
Matt: Let's say…
Dan: All the good bands were in the nineties!
Matt: Yeah exactly, the two thousands have sucked basically.
Do you think you will ever do a headline arena tour?
Matt: Maybe, we'd like to think so but we can't really say 'yeah we are gonna do that' 'cause it might all fail, then we will look like idiots. So we've got our fingers crossed we will do something like that in the future for the band.
Dan: I think we are a long way away from that yet.
I don't think so.
Matt: I don't know.
Dan: We can't afford to do it yet!
Who do you think is gonna be big this decade?
Dan: Us! [Laughter]
Matt: I think JLS are just gonna keep getting bigger and bigger, shamefully.
Dan: I think Susan Boyle… [Laughter]
Matt: I think Susan Boyle is gonna go downhill and in a year like nobody's gonna care who she is. [Laughter] I can't really think about pop charts though, Lady GaGa is gonna keep getting massive.
Dan: I think bands wise…
Matt: Kings Of Leon are done.
Dan: Bring Me The Horizon are gonna keep getting bigger and A Day To Remember are gonna keep getting bigger. I'm not really sure. Us, again!
Which game do you prefer for tour, FIFA or Call Of Duty?
Matt: Call Of Duty!
Dan: Probably Fifa
Matt: No! FIFA sucks, FIFA is so boring. I don't play football games and I hate football, and I hate sport to be honest. But I put on FIFA and I was like 'right!', I was the best team, I was Chelsea then I was playing some team in Austria that was like a local team, and they had like one star and really bad stats. On the easiest setting it was still one-all so I tackled in their penalty box, then they scored a penalty and I managed to just score one goal so… I hate that game.
And who would you say is the best at them?
Matt: Josh Franceschi [Laughter].
Dan: Josh is probably the best at FIFA, but I did beat him the other day.
Matt: I'm the best at Call Of Duty, Josh is the best at FIFA.
Dan: Chris is probably the best at Call Of Duty.
Matt: No he's not!
Dan: Chris or Max maybe.
Matt: Are you serious?!
[Laughter]
Dan: Chris, Matt or Max, they are all about the same level.
Matt: Sounds like we need a competition!
Sounds like it! Thanks guys!
Both: Thank you!
After discussing the prospect of the band playing JLS, Ronan Keating and Westlife at their aftershow party*, we finally left the darkened room into brightness meeting Max on the way out who was on his way to 'change his boxers'. What an interesting end to the day…
*None of the songs were actually played at the after party, thankfully!